bed 1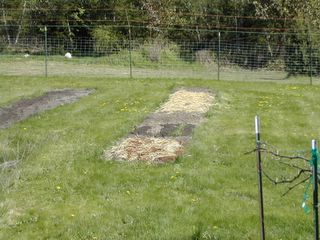 the first of our four garden rows is completely planted. it is about 50 feet long and 3 1/2 feet wide. the picture above is looking east. starting at the near end we have planted potatoes (russets from the grocery), garlic (organic from the coop, sprouts are up already), peas(bush, two rows, the first is up), carrots, blue potatoes, white potatoes, and more garlic(from the regular grocery). the green patch is peas and grass because i was impatient to plant and didn't adequately clean out the turf that was tilled in. i have weeded since the picture was taken. the patches mulched with straw are trenches with potato buds in them covered with straw. most of the potatoes will form under the straw and above the dirt and so are very easy to harvest.
the northmost row has raspberries and artichokes planted. the plan is to put the lower plants on the southmost row, in the picture, and put the taller plants in the upper rows. so the next row up will get brocolli, bush beans, probably more carrots. then zucchini and yellow crookneck squash for fresh eating, and acorn and butternut squash to keep for winter. at the top we will plant corn and beans to climb on the corn.
the posts in the right foreground support grape vines. we don't know what sort of grape because the yard was not fenced before this year and the deer just love grape leaves. the vines are several years old and quite thick so we eagerly await actual grapes.