Florika Liebmann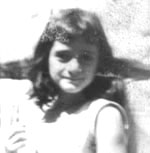 Robin
I've been thinking about this young girl in the top photo since the day I found her picture. Her photograph was the first one I came upon when I explored the
Yad Vashem
website.
Her name is Florika Liebmann. She was born in 1934 in Szeged, Hungary to Bela and Szerena (nee Hortobagyi) Liebmann. She went to school in Szeged, and in 1944, at the age of 10, was deported to her death. Her mother also perished.
The photograph and Page of Testimony in her memory were submitted to Yad Vashem by Moshe Hortobagyi.
I am haunted by this photograph because I think she and I look so much alike. Except of course, she looks much happier than I do. She has no idea what lies in her future, whereas I look like someone who knows Florika's fate. We're probably both nine years old in these photos.
It has been 60 years since the liberation of Auschwitz, Dachau, Bergen-Belsen. I've been seeing remembrances and memorials. I think of Florika. I see myself, had I been born in Europe in 1934, instead of New Jersey in 1952.
I lost many family members to the Holocaust, but our family found a survivor a dozen years ago. I wrote this poem in his honor in 1994.
when the letters stopped coming
they assumed he had perished
along with the rest of his family
their innocent flesh and bone
transformed to ash and smoke
that billowed out of the stacks
and settled on the earth, a devil-made dust
and, for fifty years it was so
until he, alone was found
alive in Israel
my mother's first cousin
only survivor of the ones
who stayed behind
who believed it could not happen
his American family
rejoiced in the discovery
rummaged through old boxes
laying hands on letters
not touched for a half century
and searched for the photograph to send
of him and his mother
taken in time
when their posing and smiling made sense
when he held the photo and gazed at her face
his tears alone were enough to keep Israel green
when he touched her writing on the back
the place where she rested her hands
wrote her hopeful, lilting lettering
this was a coveted and precious thing
one he would bring to his lips and kiss many times
and then, recite the words, her written words
as holy as any prayer